Janatková´s creative work is discovering and heuristic, without breakthrough ego pressure but with great humbleness. The whole is well-balanced and full of consistency. Beautiful music and beautiful art work.

Jiří Plocek, Kulturní noviny (Cultural news)
This project includes a music album accompanied by a collection of artworks. Following the project To My Roots, the Deep album is based on Milli´s original arrangements of ancient Czech songs from the 10th to 15th centuries. Janatková began creatively exploring Czech culture after she used her song to discover her own roots in 2014. The new album was released at Czech mythical Říp Mountain, where the artist performed her songs in the Romanesque rotunda of St. George and St. Adalbert on October 4, 2020.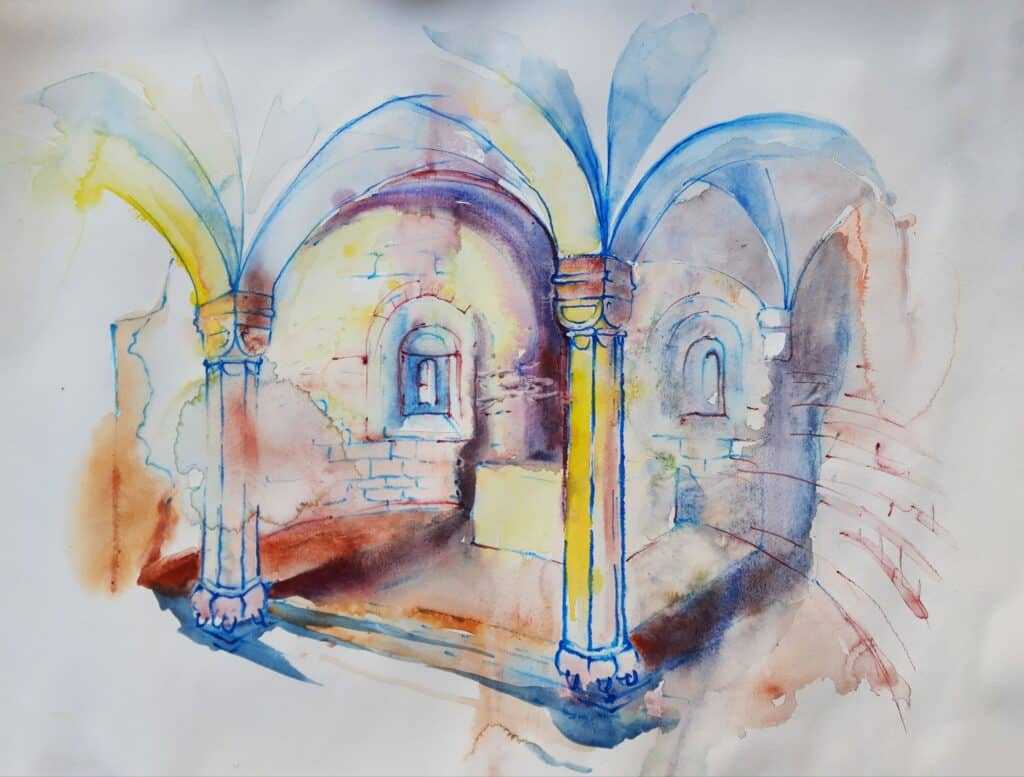 Milli has been arranging the oldest Czech musical and architectural heritage since 2014. Upon the artist's request, this unusual album was released into the Supraphon Publishing distribution network on September 28, 2020, a national holiday of the Czech Statehood Day and celebration of St. Wenceslas, the patron saint of Bohemia and Moravia. The songs exude peace and strength, as do her paintings of landscapes and architecture.
The project is unusual because the artist recorded, produced and released the album herself, as she did with her musical debut Proměna / Transformation (2013) and later Klid, prosím! / Quiet, Please! (2022). You can hear her melodic polyphonic layers and sounds, as well as the rhythms of guitars, drums and various percussions.
The Buoh (God) song has been honored with The Independent Music Awards in the World Traditional category in 2019, yet before the album release.
The visual side of the album is important. Using colors, Janatková supplements songs with paintings of the oldest monuments of Romanesque architecture found in the Czech Republic. The album was recorded in the All Senses studio in Prague by sound master Štěpán Škoch.
Watch the live performance of the oldest Czech medieval songs arranged by Milli Janatková on Czech Statehood Day and on the Saint Wenceslas Day on September 28, 2021 in Prague, Church of Saint Wenceslas.
The project Deep was financially supported by the following generous contributors, thank you!
Martha J. Janatková, Mirek a Petra Novákovi, Josef Sikyta, AirGym Art Company (airgym.cz), Martin Tomášů, Ivana Sládková, www.futureleader.cz, Jirka Jiráček, Irena a Aleš Kubicovi – Bohemian Cottage, MUDr. Helena Máslová, Luboš Poláček, zákazníci www.simira.cz/milli-janatkova, zákazníci www.fler.cz/milli-janatkova, Sandra C. Hartley, Kuba Neubert, Olga a Slávek Mackovi, Mirka a Honza Neubertovi, Martina a Zdeněk Havlík, Jana Vébrová a Ivan Acher, Jan Malík a spol., Marek Jansa, Olga a Štěpán Škochovi, Jiří Voběrek, Olga Vraštilová, Radka Kareisová, Aida Líhová Legnerová, Jan Slavíček – BusinessCon, Adéla a Filip Kándlovi, Domino Doubí z.s., Robert Štěpánek, Petr Pokorný, Lucka a Radek Janatkovi, Květa Pavlíčková, Jiří Čermák (Projektování pozemních staveb), Zuzana Miškufová – Kohoutek ve Dvoře Kobylisy, Stanislav Janiga, Jaroslav Kučera, Marek Novotný a Lucie Vojtková, Marcela a Roman Vaňkovi (Život jde dál), Pavel Vališ, Tomáš Belica, Martin Kalina, Hanka Trejbalová a Roman Senft, Miládka a Vladimír Vašíčkovi, Michaela Sarnovská a o.p.s. ČAP, Pavel Dvořák, Markéta Hradecká, Kateřina Tůmová , Taťána Cihlářová, Tomáš Pálka, Šárka Kuželová, Tamara Beranová, Alenka a Pavel Košákovi, Renata Vlašimská a Veronika Helclová, Lenka Kapsová, Milada Karez, Tereza Provazníková, Dana Zapletalová, Daniel Sál(fler.cz/dansal), Klára, Bára a Róza Čížkovy, Eliška, Linda a Radka Rosenbergovy, Katarína Urban, Alžběta Šiftová, Vlaďka Běhalová, Lucie Kukulová, Dagmar Nenadálová, Jan Žamboch, Kamila Havlíková, Beata Bocek, Josef Nováček, Petr Jelen, Radek Hnilička, Radim Bilíček, Štěpán Freiberg, Anna Lupienská, Zdeněk Vilímek, Miroslava M. Šmídová, Zdenka Vašková a Simira.cz, Jana a Olda Z., Lenka Miřacká, Jana Fiedlerová, Aleš Výmola, Lukáš Šimon, Radana Matějčková, Alena Herinková, Ludvík Blažek, Helené Sow, Simona Vacínová, Helena Míková, Karel Navrátil, Jaroslav Kořán, Martin Peřina, Alice Žežulková, Jitka Černá, Markéta Pucová, Michal Burian, Petra Ondřejová, Kateřina Tůmová, Ilona a Oldřich Horáčkovi, Bohunka a další účastníci koncertu a křtu alba Hluboko na hoře Říp, Martin Kudláček, Marie H. Prodanová, Marta Dušková, Veronika Cepková.